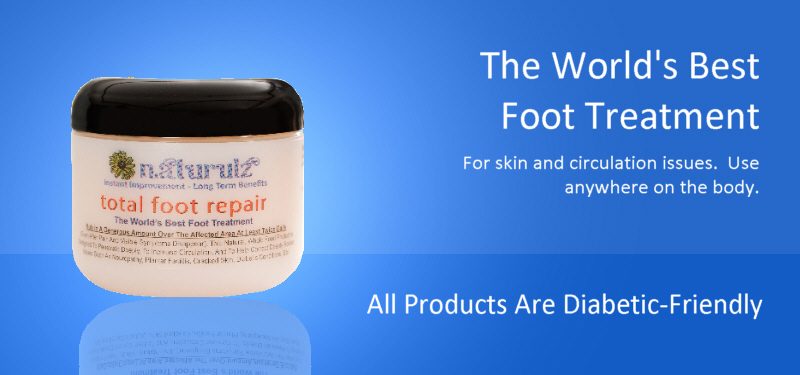 Give your body what it needs to feel great again. Made to get into the thickest skin (including the soles of feet, scar tissue, psoriasis, eczema, etc.), synthetic and wax free Total Foot Repair aids the body by giving damaged skin and under skin tissue exactly what's needed.
If we were to go barefoot on a daily basis, we'd quickly notice the tissue on the soles of our feet thicken. Our skin is our first line of defense, but when it begins to crack and scale, when under skin areas calcify and harden (as with neuralgia and plantar fasciitis), when legs and feet feel chronically sore and tired, it's a sign that our body is being overworked and is unable to maintain a healthy balance. While Big Pharma offers chemical laced pain killers and watery moisturizers, our alternative is different. Total Foot Repair supplies the nutrients that are missing.
Naturulz Total Foot Repair, rather than pharmaceuticals, is the common sense approach to living with pain free legs and feet. We've had so many people tell us such wonderful things. Try Naturulz and you'll agree.
Much simpler. More natural.
INGREDIENTS: Cocos nucifera, Arnica montana, Zinziber Officinale, Eucalyptus citriodora, Camellia sinensis, Capsicum, Cymbopogon, Aspalathus linearis, Daucus carota sativa, Urtica dioica, Matrcaria chamomilla
NET WEIGHT: 113 grams / 4 ounces
Thank you for your patience in these trying times. 
To this point, we have been able to meet all orders and expect to be able to continue to do so. However, the potential remains for slowdowns all along the supply chain and, particularly with the run we are experiencing on our Total Body Wellness product, expect deliveries to take longer than usual.
Stay Well. Stay Strong. Again, thank you for your patience and understanding.